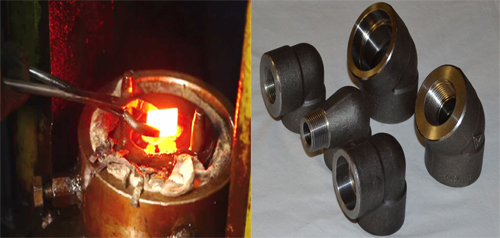 HGFF Group Co., Ltd. we invest in premium resources and dependable technology and machinery. HGFF has given an impetus to several industries during the last three decades, through its outstanding products and extraordinary services. As an ISO certified company, we stand by the principles of quality, safety, and precision in all our products. We are manufacturers, suppliers and exporters of Carbon Steel A105 / A105N Forged Fittings, which are forged, Carbon Steel piping solutions to be used with pressure systems working at higher as well as ambient temperatures. Our Carbon Steel A105 Screwed Threaded Pipe Reducers are low Carbon, Manganese and Silicon added fittings which are usable for non-critical
yet pressure applications, like refrigeration fittings, that work at constant temperatures. They offer maximum machinability and weldability as they are low carbon reducers. We provide Carbon Steel A105N Forged Pipe Elbow, which is 'normalized', heat-treated fittings, devoid of any internal stresses and thus having superior characteristics. Thereby, our Carbon Steel A105N Forged Tees have a
uniform grain structure and are used for pressure piping in the steam and power systems. Also, We offer a wide range of Carbon Steel ASTM A105 Forged Fittings such as Carbon Steel A105N Forged Elbow, A105 Carbon Steel Equal Tee, ASTM A105 Carbon Steel Coupling, Carbon Steel Pipe Cap, Carbon Steel Union, Carbon Steel ASTM A105N Bushing, Carbon Steel Plug, Carbon Steel A105 Pipe Nipple, Carbon Steel A105N Street Elbow.